I've been swimming in the deep end of the email newsletter pool: Reading them voraciously, reading about them, and sending my own sporadic missive of interesting internet finds.
My ongoing favorite reads are the news-and-tech-heavy NextDraft (daily), Austin Kleon's weekly update of creative inspiration, Lena Dunham's feminism-focused Lenny and freelance writer Ann Friedman's sometimes-overwhelming link round-up.
What I like: Finding interesting things to read. Discovering new people, ideas and publications in my email inbox. Overloading my Pocket queue with saved items to savor on my iPad later.
You can sign up for mine, called "I HEART WORDS," on TinyLetter. Here's a slightly abridged version of my latest (which I sent out on Halloween, thus the skeletons). 
Enjoy! And join me, if you'd like to see it in your inbox every couple weeks.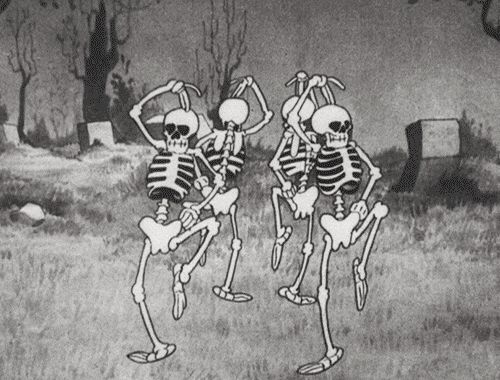 I'm not saying that death is on my mind, but I've been stumbling across a lot of slightly dark (but fascinating) bits of media from all over in the last few weeks. So if you're in the mood for some vaguely Halloween-y reads, head to "The Lonely Death of George Bell" (about what happens when you die alone as a New Yorker) or "The Hateful Life and Spiteful Death of Vigo the Carpathian" (about a villain from an 80s comedy). There's also "American Horror Story: The Cecil Hotel," which is mostlyabout the death of a young Canadian woman on a road trip but also features a seedy pocket of LA and a historically-creepy hotel.
WATCHING 
If you are having a stressful week at work, or you have a toddler in the room and want some wholesome, delicious background noise, I endorse The Great British Baking Show.
LISTENING TO 
When I listen to a band called Thunderbitch, it is 50% because I like the singer (Brittany Howard of Alabama Shakes) and 50% because the name is ridiculous and epic. Also listening to this new Gwen Stefani song, which on first listen I was like, "Do I like this? Probably?" But I kept thinking about the hook and re-listening.
In the world of podcasts, I just discovered Strangers, and the latest episode, My Father's Bones, is a touching (and sad) story.
CRAVING
The idea of Friday night dinners with the same menu (for ease of preparation) and rotating guests (for bonding with your friends, neighbors, families and acquaintances).
And my baking hero, Deb at Smitten Kitchen, made a Twinkie Bundt Cake. Droooool.
Is anyone else on This.cm? I'm starting to use it and like the idea: You can share one link per day with a short comment. (Find me here.)